Booking Open Now!
1, 2 & 3 BED Apartments

Booking Starts from Rs.1,476,750
Monthly Installment: Rs. 55,000
Introducing Bahria Sky – a truly exceptional luxury apartment project now open for reservations in the heart of Bahria Orchard, Lahore. This is where you can experience the best of both worlds: a peaceful, modern way of life.
Bahria Sky isn't just another project, it's a groundbreaking vision that's changing the way we think about luxury living in Lahore. These apartments have been designed with the utmost care and attention to detail to elevate your everyday life.
Discover Bahria Sky, where luxury knows no bounds, and the sky is your only limit. Reserve your place in this refined living experience today!
Turn your dreams into reality effortlessly through our 4-Year Easy Payment Plan. Don't let your desires slip away – take hold of them today!
Secure your apartment today, starting at just Rs.1,476,750
Monthly Installment : 55,000
Meet the mastermind behind it all – OZ Developers (Pvt) Limited! Known for their stellar reputation in the real estate world, OZ Developers are the architects of brilliance. They bring your ideas to life and turn them into magnificent structures. OZ Developers don't just build; they provide top-notch services to both local and international clients, offering reliable strategies that make dreams come true. With Bahria Sky's latest development, they're redefining the way we live. Get ready for unique housing plans and stunning architecture that will transform your residential lifestyle. 
Experience the magic of Bahria Sky, brought to you by OZ Developers.
These opulent apartments are situated within Bahria Orchard, strategically located for convenient commuting. Let's explore some notable features of the location.
Perfectly positioned in Bahria Orchard Phase IV, Lahore, this ultra-modern locality boasts world-class amenities and is often described as a self-contained city. Just a 5-minute drive from Lahore Ring Road, it's incredibly convenient for shoppers and visitors to access the mall and residential area.
10 min drive from Thokar Interchange

5 min drive from Adda Plot

3 min drive from Superior University 

7 min drive from University of Lahore
Payment Plan / Possession & Offering
The Payment plan for 1, 2 & 3 Bed Apartments  stand as below.
The World Class Amenities of Bahria Sky Apartments are as follows.
Around-the-clock Security

State-of-the-Art Fire Safety

Backup Power Generator

Outstanding Hygiene

Mosque Facility

Professional Property Management

Concierge and Valet Parking Services

Convenient Accessibility

Temperature Control

Modern Restrooms

Fast Elevators and Escalators
Below is the Layout/Floor Plan of the Apartments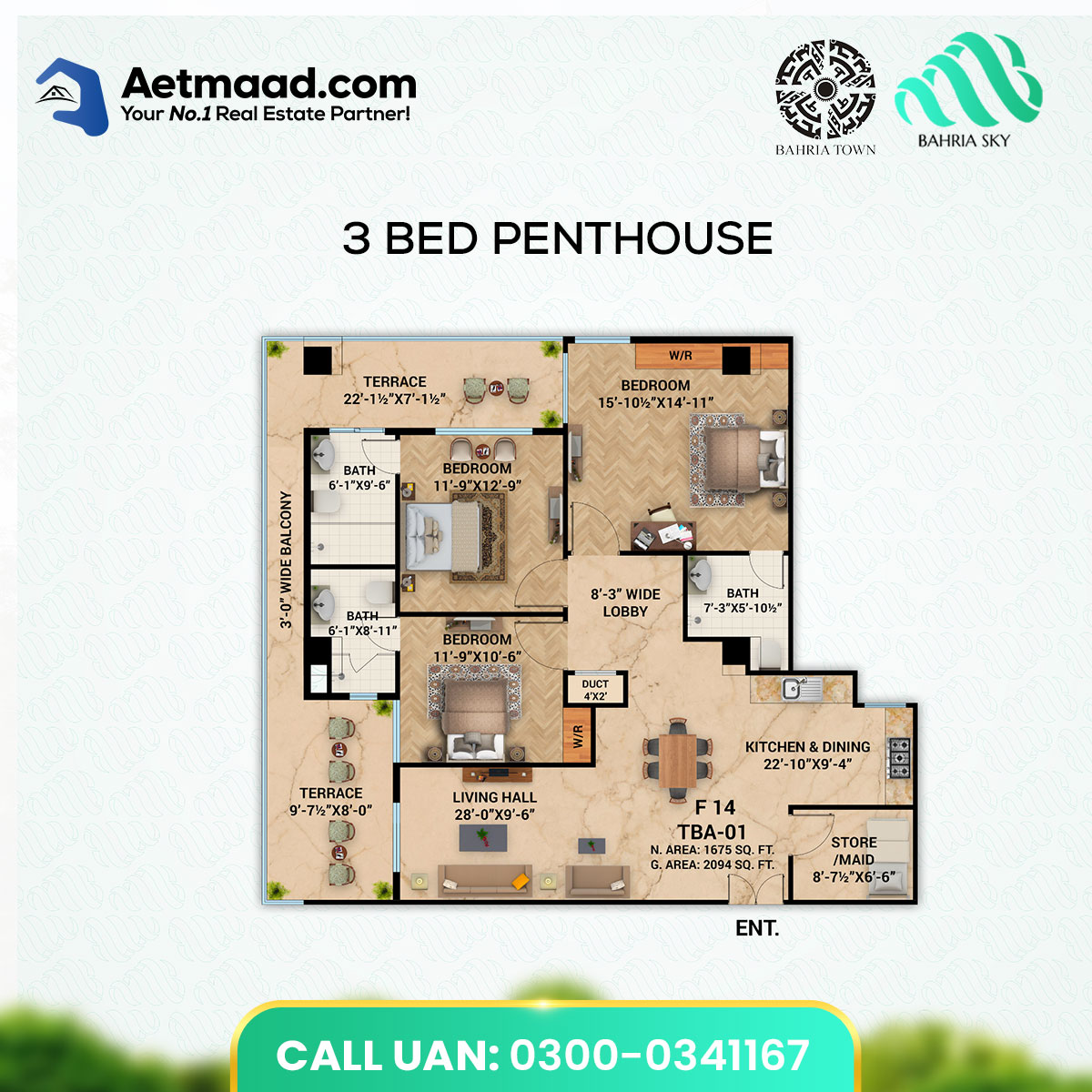 Why buy an Apartment in Bahria Sky?
Bahria Sky presents a range of investment choices on every floor. You have the opportunity to reserve a showroom or shop, fulfilling your aspiration to launch a business in this bustling shopping complex, expected to attract a substantial daily customer base
WE'D LOVE TO HEAR FROM YOU
Stay Connected with Aetmaad